TL SYSTEMS CLOUD SERVICES
---
---
WHAT IS THE CLOUD?
To answer that in easy terms - it is a service provided from the Internet and used locally. An example of this is email from Hotmail or Gmail which is access and used from a web browser, program or smart phone . Another example of a cloud service is online storage / file sharing or backup such as Dropbox, Google Drive and Office365.
An internet connection is required to use any cloud based.
---

Website hosting

Linux Hosted Server's

No Bandwith Limitation

Control panel Access

Unlimited Sub Domains

E-mail hosting

Unlimited Email Address

Web mail

Unlimited Auto Reponder

PTR Record

SPF Record

DKIM (optional)

DMARC Record
Buying your domain name and getting e-mail up and running. Placing your website on-line and allowing search engines to find you.
We provide this cloud service. If you need help with your current hosting company of choice to get your site running or emails added to your computer, then no problem just contact us, we will be glad to help you out.
Information
Domain name - Is always rented. This is from 1 up to 10 years. www.tlsystems.co.uk & http://tlsystems.co.uk are a Domain name.
Sub Domain - is a extension at the beginning, https://www.shop.tlsystems.co.uk & https://shop.tlsystems.co.uk are Sub Domains.
E-mail Address - An E-mail would look like this - me@somewhere.com being part of the Domain it runs for the same time length.
Host or Hosting - Is where your Domain name lives and is also referred as a webserver.
Website - Is a collection of text files, images, sounds, videos and when brought together create a flowing site where he user navigates from one page to another. A Website can be created manually where each page is written and code is added either by a special program, written in a text editor or created by from a CMS (See below)
CMS - Stands for Content Management System and acts like a word processor. As you type and create pages by clicking icons, the CMS does all the Geeky programming work for you, this saves months/years of learning and grasping how code works. Concrete5, Wordpress, Joomla, CMSMS are just a few - These are free to download and use, all are exandable and theme based so you can just buy, create or pay someone to do this for you to create your own branding. For further information, click each one to read more, each CMS are running millions of web sites on the Internet.
So, you buy a domain name, it then needs to live on a webserver, then you put your website there for people to view.
Cost's involved
purchase of Domain name
Hosting charges
making of a Website
The cost of a Domain name is a 1 off cost for a set period of time and chosen when you pay for the Domain. The cost of Hosting is usually paid monthly, Quarterly or Yearly. Creating the site, this varies greatly, you can used a CMS or manually created.
---
!Data is worth more than your computer! - !Dont risk losing your Data!
Backing up your data should happen at the very least monthly maybe weekly but we prefer Daily. By waiting monthly, to us this means at the most you have lost a months work and to re create this may mean you can never re create it. The statistic is 70% of businesses go out of business due to major data loss (Source, UK DTI).

Automatic timed, Encrypted and secure off site in UK Data centre.

Data retention. (From 3 months up to 7 years for compliance - FROM 4 MONTHS TO 7 YEARS THIS HAS TO BE SPECIFIED)

Desktop / Laptop / MS Server / Mac OSX / Linux - Deb - RPM

No contract

Charged per Gb needed
---
Get instant access to files stored within the Cloud for Microsoft Windows users and Linux users
Atmos GeoDrive behaves like local storage. It creates a Windows drive or Linux mount point which connects directly to an Atmos private or public cloud where users can drag, drop and share files as if they were on their local system.

Users can store data copies both locally and in the cloud or create a local shortcut to push all content to the cloud. Since it runs in your native environment, there is no learning curve so you can be up and running in minutes. Atmos GeoDrive features include:

Easy to use graphical and command line interfaces
Disconnected mode
Encryption
Compression
Disaster recovery capabilities
Optional CIFS Cloud Gateway with unlimited user support (Windows)
Support for system and custom metadata to drive Atmos policies (Windows)
Collaborate using shareable URLs (Windows)
Recover deleted files (Windows)
Available in ten languages (Windows)
With Atmos GeoDrive service providers can monetize and provision offerings faster, enterprises can take back control of the data center, and application developers can get to market faster.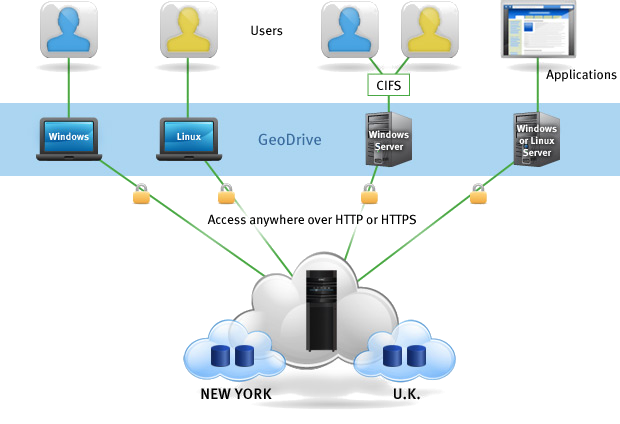 ---
Work together better, securely
Run your business more easily with Office 365. Get everything you need to get work done anytime, anywhere.
The Business Benefits
Mobility - Get it done from anywhere
Whatever device you're working on, wherever you are, Office 365 gives you a consistent, clean and fast experience and access to everything you need — your documents, email, calendars, contacts and team sites all come with you.
Familiar tools - easier and faster, for everyone
Your teams can use the same apps they rely on every day with all the new features they need. Everything works together. No hassle, no fuss.
ROI - The smarter IT spend
Office 365 minimises your upfront cost, so you don't have to worry about hardware costs and software upgrades. You get enterprise-grade IT at a fraction of what it would cost to run it yourself.
Collaboration - Work better together, simply
Office 365 offers business-class email, shared calendars, IM, online conferencing and access to the most up-to-date documents. You can work together in real time—and without compromising security.
Automatic updates and guaranteed 99.9% uptime
Office 365 is continually updated with new features, so you get them automatically. Financially backed SLA means 99.9% uptime means everyone can benefit from increased productivity.
Simple IT and rock-solid security
With Office 365 your data is protected and control is even easier. The built-in security deflects malware, spam, phishing attacks and other threats.

Encryption in Office 365
Office 365 encrypts your data while it's on their servers and while it's being transmitted between you and Microsoft. Office 365 provides controls for end users and administrators to fine tune what kind of encryption you want to use to protect your files and email communications.
---